What we do
Based in North San Diego County, Love Your Feral Felines mission is to improve the lives of feral and homeless cats and kittens. We accomplish our mission through our Barn Cat Program, TNR (Trap-Neuter-Return), and our Under-Socialized Kitten Foster Program. We focus on educating the public on spaying/neutering and the process of TNR to reduce the number of feral cats and kittens entering shelters.  Love Your Feral Felines, is an all-volunteer, non-profit based organization funded by donors, dedicated to helping the San Diego County homeless cat population. With TNR, feral and homeless cats are humanely trapped, spayed/neutered, tested, vaccinated, and returned to their original location. The breeding stops, and the behaviors associated with mating stops (spraying, fighting, yowling). TNR is the only long term, effective humane solution in controlling feral cat population. We assist local shelters with our Barn Cat Program, where we save feral and semi-feral cats from euthanasia and place them into barn homes where they can help control the rodent population. In May 2017, we started our Under-Socialized Kitten Foster Program focusing on saving kittens deemed "feral" in local shelters from euthanasia. After a few weeks in a foster home these kittens generally become social and are ready for adoption into their forever indoor homes.
Please note our mission is to help cats and kittens in the local shelters system so we cannot accept owner surrenders of cats or kittens at this time.
---
 Founder- Christine Hubbard
In April 2011,  I decided to do something for the greater good in honor of my birthday. I decided to start volunteering at one of our local shelters. Boy did I not realize how that decision was going to change my life forever. From that day on I have been actively working to change the lives of feral cats. I had set many goals and had many dreams of what I wanted to see for our feral felines. We still have a ways to go but just in the past four years have made huge strides.
One of my dreams was that one day shelters would end the euthanasia of feral cats which came true at one shelter, and a goal was to get a TNR program started at the local shelter and that was achieved.
I wanted to share my journey with all of you in hopes that people can see just one person CAN make a difference. Please take a stand and be the voice of our feral felines. Let's take this journey together to change the lives of feral cats
---
Senior Director- Melissa Dunaj
I have been in animal welfare for close to 10 years, both working in vet offices as a vet assistant and multiple roles with local shelters.  I found my calling with Love Your Feral Felines in June of 2017 and it feels like home! We are able to step in where the shelters aren't able to. We have big plans for our Cat & Kitten Foster & Adoption Program and will continue our life-saving work through our other, more developed programs as well. We learn something new everyday in rescue and we hope to continue to make a positive difference in the world.
---
Social Media Coordinator- Sean Berger
 We adopted our first cat, Binx, in March 2015. She was a 6 month rescue and had been saved in such bad shape that she had unfortunately lost most of her hearing. Although now mostly deaf, she is an otherwise very healthy, sassy and happy cat who is spoilt and lives a very content life! Our second cat was also a rescue and although Diego didn't have quite the same level of trauma as Binx did as he was rescued with his whole litter, in both cases someone was there and took time out of their lives to save our precious kitties. I often think that because someone put in that effort with our cats and because of the kindness in someone's heart, we now have two amazing and truly unique cats who make our lives so much more rewarding. If I can help save even one cat through LYFF like someone did when they took the time to save our cats, it'll be one of the most rewarding experiences of my life!
---
Barn Cat Program Coordinator- Serena Aronson
I began working with Love Your Feral Felines in 2016 after seeing this amazing video: https://www.youtube.com/watch?time_continue=5&v=sZTwgRYRx-U. I had been researching some local volunteer organizations, but when I happened upon this video, I instantly knew LYFF was the organization I wanted to dedicate my time to. I began transporting as many barn cats as I could as often as I could. Every free moment I had was focused on saving cat lives. The more I volunteered with LYFF, the more I became aware of just how many people viewed feral cats as a nuisance.  You have to remember that humans domesticated the cat, humans abandon their cats, and humans fail to spay and neuter their cats.  when a cat is abandoned and not fixed, they populate. LYFF works to break the cycle of abandonment, neglect, and overpopulation through education, trap-neuter-return, and humane relocation through our Barn Cat Program, and the list goes on. I am so thankful to LYFF for giving me the opportunity to work with so many amazing cats, volunteers, adopters, and shelters on a daily basis!


---
Retail Coordinator- Amanda Hodder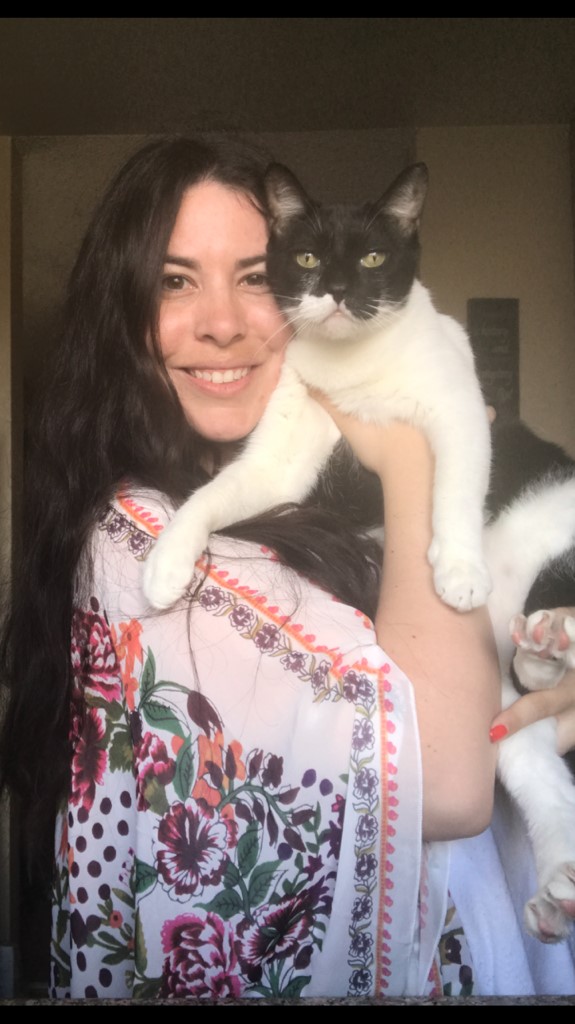 I originally started fostering for Love Your Feral Felines in June of 2017 and quickly fell in love with rescue. I wanted to get more involved and low and behold, here I am as Retail Coordinator. I work on building relationships with small businesses and am developing a store for LYFF. Keep an eye out for it early 2018! I'm happy to help and excited to be a part of TEAM LYFF!
---